From: Barbara ******
To: rosaryo <rosaryo@aol.com>
Sent: Wed, Dec 31, 2014 11:28 pm
Subject: Re: Degas musical coming to NYC!

Dear Rosary,
I was fortunate to see the play at Bard, Dec. 18th. You have a gem!!! The students were so beyond their years, the music was superb, and the play captivating. I sincerely hope someone will see it and want to produce it in the city. Congratulations.
Best wishes,
Barbara
+++++++++++
from Short Takes by Nina Shengold
Appeared in the July 2014 issue of Chronogram
NEW ORLEANS CARNIVAL KREWES: THE HISTORY, SPIRIT & SECRETS OF MARDI GRAS
Rosary O'Neill, foreword by Kim Marie Vaz
The History Press, 2014, $19.99
New Orleans native and Rhinebeck resident O'Neill offers a loving, exhaustively researched insider's view of America's most spectacular carnival. Mardi Gras is big business, from the street parades enjoyed by hordes of drunk tourists to secret balls and festivities representing all strata of local society. Though O'Neill's family held rank in elite carnival courts, the inner workings of these secret societies are closely guarded. This is a rare view behind the mask, interspersed with oral histories and period photos.
++++++++++++++++++++++++++
June 16, 2014
by Judith Pratt: playwright, director, and theatre historian.

THE SECRET LIFE OF MARDI GRAS
I once toured the warehouse where they keep all the Mardi Gras floats and props. As a mask-maker and popular culture historian, I was in heaven.
New Orleans Carnival Krewes;The History, Spirit & Secrets of Mardi Gras, by Rosary O'Neill, reproduces that heaven. It's a behind-the-scenes look at the culture that created Mardi Gras in New Orleans. This unreconstructed Yankee was amazed.
O'Neill, an historian and playwright, interviewed at least 50 people to gather the "secrets" she chronicles. (She also read a fascinating bibilography of books.) As a native of New Orleans, she understands its culture; as an historian, she analyzes the social structure of her native city. With a wealth of detail, she brings us through the history of the carnival krewes to an understanding of how they work today.
"New Orleans attracted the rich and the dreamers," says O'Neill—from French aristocrats to Spanish conquerors to American entrepreneurs (along with their indentured servants and slaves.) Each group created its own aristocracy, and as the cultures melded, so did their love of theatre, balls, and extravagant celebrations.
But the book gets really interesting as O'Neill describes the "old-line" krewes, which are all about inherited power and prestige. I learned that krewes come and go; that they affect, and are affected by, changes in politics and culture; and that they are expensive.
Member dues range from $600 to $2,900. New Orleans spends more on ball gowns than any other city in the world. A single costume can cost as much as $6,000; the ball after the parade costs over $120,000. Debutantes from important families receive "call-outs," or invitations to dance. They are, of course, groomed for this event from childhood.
Of course, things have changed over the years; especially after Hurricane Katrina. "Super-Krewes" parties are egalitarian bashes. Women and African Americans have created their own krewes. Debutantes now become career women.
I recommend this book to historians of popular culture. I also recommend it to anyone who has ever been to Mardi Gras, or just to New Orleans. I recommend it to actors, directors, and designers—these folks can put on a show!===
+++++++++++++++++++++++++
By Kathleen Spivack on May 24, 2014
author of "With Robert Lowell and His Circle: Anne Sexton, Sylvia Plath, Elizabeth Bishop, Stanley Kunitz, others." ISBN # 978-1-55553-788-3.University Press of New England 2012.
Reviewed in Goodreads
This book is an absolute must for any reader, scholar, reveler, tourist, historian, admirer, expatriate, resident or non- resident lover of this city. O'Neill writes for the obsessed lovers, whether unrequited or fulfilled, of the real and the imagined New Orleans. "New Orleans Carnival Krews" describes social and political structure, past, present and future, and the history and mystery of the Carnival. Through Carnival, the author takes us in to the heart of the planning, the rituals, and the magic. O'Neill shows us the rituals; race, class and and membership. As in all of O'Neills books based on New Orleans, as well as her plays, we discover the lure of this half drowned city, still bravely calling to us with siren insistence.The author shows us how the rich traditions of New Orleans have been preserved.

Her work reveals tales of gentle care and family and district stewardship,. But it also finds perfidy, base betrayal, and illicit passions. Generations of feuds, murder even, seethe just below the surface of O'Neills celebration of her city and its writers and artists. In hectic gaiety the Mardi Gras proclaims the brevity of life: it rivals the city of Venice in its feverish celebrations. Professor O'Neill takes us behind the scenes, shows us the organizations and the planning, the oaths and scandals, the sexuality, the magnetism, the exclusions and the inclusions. And she describes some of the wonderfully artistic and original conceptions, some unbelievably wild and imaginative. We learn of their origins, ideas and their construction, and of the planning that goes into each detail of the citywide spectacle.

Archival illustrations accompany the history of progression of the city, its politics, and its Carnival. Prof. O'Neill is a specialist and knows her mysterious and legendary city intimately. The author open the doors to the magic of New Orleans, with its arcane rites and celebrations, its multi -cultural history and politics, its celebrations, its music, its peoples and joyous survival.

"New Orleans Carnival Krews" as well as O'Neill's other works on her beloved city should be in everyone's travel kit: at any airport, hotel, restaurant , conference center, travel bookstore, or house of good or "ill "repute, as they say—wherever people might want a bit of time on their hands, unobserved, to absorb a very special city, its magnificent secret societies and rites and festivals, its febrile gaiety, its influence on art and literary production, and of course,its thrilling shadow-side.
++++++++++++++++++++++++++++++
Posted by Carole Di Tosti on May 18, 2014
Selected as an "Editor Pick" by Blogcritics
(This means the editors selected it as a book worthy to read based on the review and placed it in a cental location in the magazine)
http://blogcritics.org/book-review-new-orleans-carnival-krewes-the-history-spirit-and-secrets-of-mardi-gras-by-rosary-oneill/

Carnival is an ancient festivity with traditions harkening back to Roman Catholic Europe. Carnival is steeped in majesty and mystery, revelry and masking (wearing costumes and dancing). It is a time for excess, for feasting, drinking, and indulging all of the senses. Carnival occurs before Lent and is a complete blowout because Lent is the penitential season when one is supposed to expiate the fleshly body's hungers by prayer and abstinence from certain food, drink, and other activities. The idea is that by giving up something you love for Lent, the soul and the spirit can be made stronger to appreciate and remember Christ's death and resurrection at Easter.

We don't celebrate Carnival in the US. We have something better - Mardi Gras. New Orleanians have transformed Carnival into their own unique creation which is an affirmation of community, family, and all the greatness and passion that life offers. Unlike Europe's Carnival, Mardi Gras isn't only about that special time when the tourists come down to party. It is an extravaganza that continues for a good part of the year. The preparations, social networking, grandstanding by different ethnic and economic groups, the plans for the parades and balls, and courts and banquets are the cultural fabric of New Orleans and all aspects of its society.

These behind the scenes activities, as well as the traditions and the spirit of this celebration are illuminated by a fascinating book recently published about Mardi Gras and New Orleans by Rosary O'Neill, New Orleans Carnival Krewes. As a native New Orleanian O'Neill is able to bring credibility and interest to her revelations about the secret traditions and the secret societies that have been the underpinnings of the history of New Orleans and the drama and revelry of Mardi Gras. Her investigations reveal how Mardi Gras is New Orleans; there is no differentiating one from the other. Mardi Gras has come to fuel and energize the city. The various cultures, ethnic groups, and social classes with their values, mores, and attitudes, in turn have created Mardi Gras and made it evolve into an ever-changing historical and cultural phenomenon.

In revealing this intricate dynamic, O'Neill has contributed vital ideas to help us better understand this city that tourists and newly minted residents find elusive. She discloses the never-before-seen or recognized elements of social tradition and folkways; it is a place of familial generations unlike most cities in the US. This generational aspect of the city's culture and society and how it has been sustained to its benefit and to its woe offers new insights into appreciating what makes New Orleans so incredible. It also helps elucidate how Hurricane Katrina and the aftermath were both a great blessing and an irretrievable loss for the city.
O'Neill explores how the secret societies established by and within the Mardi Gras social structure propelled discriminatory practices toward groups that were ostracized by the ruling elites and prosperous social circles. She also reveals how this changed and thus began the gradual democratization and inclusion so that diverse groups were able to participate in the parades and join some of the Krewes (a more recent occurrence). She touches upon how and why the social and cultural groups fueled by Mardi Gras maintained entrenched political and economic systems which divided the city, ironically enriched it but also endangered it. All was brought to bear during and after Hurricane Katrina.

O'Neill has written an amazing work about New Orleans and Mardi Gras. To understand the history of New Orleans you must also understand how Mardi Gras is inseparable from the city in its beauty, its racial issues, its secret societies, its roots in folklore, its parochialism, its near destruction by Hurricane Katrina, and its resurrection as it burgeons today. New Orleans Carnival Krewes is an account that will entertain and enlighten from beginning to end. And if you visit after reading this comprehensive and interesting work, you will have a deeper understanding of how the phrase, "Let the good times roll," is faithfully followed and embraced by New Orleanians year round.
++++++++++++++++++++++++++++++
I couldn't put this down

By Aaron M. Kinchen on May 13, 2014
Format: Paperback Amazon Verified Purchase

If you're at all interested in the "behind the scenes" world of Mardi Gras, this is a, frankly, astounding book. I've read quite a bit about mardi gras, and I haven't yet found a book that is so well researched and presented. You get a history lesson about the socio-economic position of the rich and poor, presented in context of the political machinations of every generation for the past 150 years. As if that weren't enough information, she has spreadsheets that break down the average costs of everything from annual dry-cleaning and alterations of tuxedos and gowns, to the beads and throws for both Old-line and New Krewes. A special chapter focuses on African American Carnival. While the Gay Tableau societies are mentioned more than once, this may be one area where I might have liked to have had more information. But on the whole, the book is a BIBLE for anyone who wants to learn more about Carnival, or, if you're like myself and you have a business that caters to the people in the Mardi Gras world.

++++++++++++++++++++++++++++
The Length and Depth of Mardi Gras
By Raymond A. Vrazel Jr. "Teacher/Director/Actor"May 6, 2014
Beyond the day itself, beyond the street parades and outdoor festivities, beyond the riotous clamor of Bourbon Street, there are the "mystic krewes" of Carnival. What are, who are, and from whence came these mysterious, fraternal organizations? These questions are answered in a captivatingly thorough and touchingly affectionate way in Rosary O'Neill's book of history, heritage, and drama. Yes, drama! And I mean that in the truest sense. If you think you knew a little about Mardi Gras, get ready for a most comprehensive yet fanciful and fascinating look at its genesis.
Even though this reader grew up in the "birth place of Mardi Gras, Mobile, Alabama," and whose knowledge of Mardi Gras was more of the "promiscuous masker" type, that is, masking on Mardi Gras day and roaming the streets, this history completes the dots in the crazy puzzle of Mardi Gras lore, fact and fiction. It relates a vision of bygone customs, of theatrical whimsy, and, especially, of insider politics that are still very much in existence in present day New Orleans Mardi Gras.

Even as it chronicles Mardi Gras's past, it reveals the history of the deep south, never "masking" the inherent racism of the Krewes. I appreciated very much this aspect of the book, for, as it is so masterfully portrayed, Mardi Gras is truly a dramatic reflection of the city, its society, and its people.

Chapters on krewe budgets and ball expenses were interesting but slowed down the "experience" a bit. However, the myriad sections on all aspects of Carnival will leave you hungry for more. Comprehensively indexed and exhaustively sourced, this account of the history, spirit, and secrets of Mardi Gras will definitely whet your appetite for a real experience of the most wonderful day in the New Orleans year.

++++++++++++++++++++++++++++++
Carnival Krewes by Rosary O'Neill
Good News Planet APRIL 15, 2014 BY ADMIN
New Orleans is practically synonymous with Mardi Gras. Both evoke the parades, the beads, the costumes, the food—the pomp and circumstance. The carnival krewes are the backbone of this Big Easy tradition. Every year, different krewes put on extravagant parties and celebrations to commemorate the beginning of the Lenten season. Historic krewes like Comus, Rex and Zulu that date back generations are intertwined with the greater history of New Orleans itself. Today, new krewes are inaugurated and widen a once exclusive part of New Orleans society. Through careful and detailed research of over three hundred sources, including fifty interviews with members of these organizations, author and New Orleans native Rosary O'Neill explores this storied institution, its antebellum roots and its effects in the twenty-first century.
About the Author:
Rosary O'Neill, PhD, is a native New Orleanian living in New York City. A freelance author, playwright and screenwriter, she is a professor emeritus of drama and speech at Loyola University of New Orleans and a recipient of five Fulbright Senior Specialist Program fellowship awards. She is the author of twenty-two plays, most of them published by Samuel French Inc., and is a member of the Playwright Directors Workshop of the Actors Studio. She is also the founder of the Southern Rep Theatre in New Orleans, Louisiana's only actor's equity theater.
+++++++++++++++++++++++++++++++

New Orleans Carnivals
Book review: "New Orleans Carnival Krewes: The History, Spirit & Secrets of Mardi Gras"
By Rosary O'Neill; foreword by Kim Marie Vaz. 238 pp. Illustrated.
Charleston: The History Press. $19.99 paper. ISBN 978.1.62619.154.9.
Reviewed by Jack Anderson
New York Theatre Wire
http://www.nytheatre-wire.com/ja14031t.htm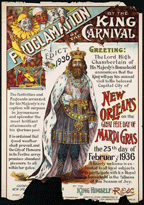 Rex poster for 1936 Mardi Gras.
People like to parade. People like to party. People like to don extravagant or even outlandish outfits that have nothing to do with the sober stuff they might choose as workaday attire. People simply like to show off. And certain communities are celebrated for allowing citizens and visitors to do just that. One city famous, even notorious, for revelry is New Orleans, with its balls, parades, and carnivals. Mardi Gras ("Fat Tuesday") may literally be only a single day: the day preceding Ash Wednesday, which opens the penitential season of Lent. But in New Orleans the Mardi Gras spirit seizes the city weeks before that and never really leaves it.

Rosary O'Neill, a native New Orleanian from an old-line Carnival family and a professor emeritus of theater at Loyola University who is now a New York resident, has traced the history and analyzed the significance of New Orleans Carnival krewes in this spirited and richly illustrated account. She uses the term s "old-line" and "krewe" before she fully defines them, but definitions are soon provided and, in any case, readers can easily guess the meaning s of those words: "krewes" are Carnival organizations (that curious spelling, O'Neill says, is an old English form of "crew") and the old-line krewes are those that have survived for generations, many of them with mythological, or at least fancy, names. New Orleans makes much of tradition. Even though, or possibly because, "the majority of the city's first settlers were refugees, commoners and ex-convicts" (p. 22), Orleanians love to indulge in aristocratic fantasies. There's certainly nothing ordinary about Carnival. O'Neill finds parallels to New Orleans Carnivals in Renaissance and Baroque masques, and she describes present-day Carnivals with such zest that parts of the concluding sections of her book sound as if they could come from a tourist brochure.
So, then, why not just relax and "Laissez les bons temps rouler"?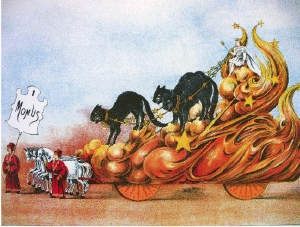 Early 20th century postcard showing riders
and float of a day parade onCanal Street, 1909.

Not so fast. Carnivals may be sunny in spirit. But they are not entirely sweetness and light. As O'Neill clearly and carefully points out, New Orleans Carnival societies (and the old-line ones go back to the Nineteenth Century) are inextricably tied to the city's social, economic, and racial politics. O'Neill loves Carnivals, but has no illusions about them.
"New Orleans carnival organizations," she says (p. 16), "are exclusive, secretive, private and predominantly male associations that dramatize the city's social structure through parades and balls." The most well-established ones are also predominantly Christian. Although the first king of the venerable Rex krewe back in 1872 was Jewish, O'Neill notes that "this phenomenon has not reoccurred" (p. 75). Stringent, and discriminatory, membership restrictions began to loosen up after the 1930's (and, again, post-Hurricane Katrina). In 1941, the Krewe of Venus was the first organization to allow women to ride on its parade floats. African American krewes began flourishing in the early Twentieth Century, and in 1991the City Council ordered all Carnival organizations to declare that they did not discriminate. Yet, as O'Neill notes (p. 92), although New Orleans is now predominantly black in population, its Carnival organizations remain predominantly white. The old-line societies constitute a self-perpetuating autocracy and membership in them provides "entry into other closed clubs, business contacts and exposure to advantageous marriage partners." (p. 103).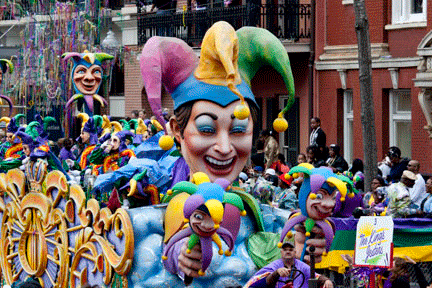 Mardi Gras Parade, 2011
All this may be changing, especially as the city recovers from the devastation of Katrina. New krewes are being organized and, of course, one does not have to belong to a krewe to participate in Carnival, for New Orleans streets during merrymaking times are thronged with "promiscuous maskers." Carnival has even come to serve as a symbol of civic resilience, of the city's ability to rise above and defy adversity. No wonder O'Neill, for all her awareness of its problems, still loves Carnival and can write about it enthusiastically.
Yes, indeed, "let the good times roll."



Postcard panorama of "Rex" parade on Canal Street, New Orleans Mardi Gras, 1904
+++++++++++++++++++++++++
New Orleans Carnival Krewes Farce

Book review: "New Orleans Carnival Krewes: The History, Spirit & Secrets of Mardi Gras"
By Rosary O'Neill; foreword by Kim Marie Vaz. 238 pp. Illustrated.
Charleston: The History Press. $19.99 paper. ISBN 978.1.62619.154.9.
Reviewed by By Paulanne Simmons
New York Theatre Wire
http://www.nytheatre-wire.com/ja14031t.htm
New Orleans means the French Quarter, the Garden District, corrupt politicians, good food, good music, and most of all, Mardi Gras. In her new book, New Orleans Carnival Krewes, Rosary O'Neill, a native New Orleanian living in New York, concentrates on Mardi Gras, but inevitably includes all those other fascinating subjects as well.
The history, spirit and secrets of the Mardi Gras are inextricably allied with the history and culture of New Orleans. Anyone who wants to study the first will undoubtedly become immersed in the latter.
O'Neill's research includes both published and unpublished articles as well as interviews with carnival leaders, many of whom prefer to remain anonymous. She has divided her book into eighteen chapters, beginning with the birth of carnival Krewes and ending with the carnival today.
The story begins in Europe, where Roman Catholic countries have celebrated carnival before Lent for centuries. It then goes to New Orleans, a stronghold of Creole (a mixture of Spanish and French) culture, where the tradition of society balls and and secret parade societies coalesced into the first carnival society. And it ends with the carnival today, a more democratic, more commercialized version of the original.
New Orleans Carnival Krewes is illustrated with pictures of carnival floats, parades and participants. Pictures scattered throughout the book go back to antebellum celebrations. Others show the the indomitable spirit of post-Katrina New Orleans. They are all in black and white but do not fail to illustrate the glorious sense of style and display which means so much to New Orleanians.
O'Neill does not shy away from the darker side of carnival, from its associations with racism to its crude excesses. She makes quite clear how carnival has historically underlined the vast differences race and economic status make in how the event is celebrated.
But she also shows how the carnival reflects many of the changes brought about by the more progressive movements of the 20th century. Most of all, O'Neill reveals how Mardi Gras epitomizes the best in New Orleans: the sense of family, the love of life that comes with food and drink and dress, and the special magic that are the soul of this great city.
New Orleans Carnival Krewes, by Rosary O'Neill, is published by The History Press www.historypress.net. http://www.history/
++++++++++++++++++++++++++++

Fascinating
Christopher Grey
Los Angeles
Format: Paperback Amazon Verified Purchase March 11, 2014
I picked this up for research on a novel I'm working on. My wife and I had our honeymoon in New Orleans, years before Katrina, and so I've always been fascinated with the city--even though I'm not a resident. That said, I had NO idea about the extensive history of Maris Gras and the krewes behind it. What an incredible journey into an exclusive subculture the rest of the country (or world) likely has no idea about. For lovers of history, revelry and the Big Easy--check this out.
From what I can see, no other author has been able to have such incredible access to these secret societies and she does a delicious job in lifting the veil. Well done!
+++++++++++++++++++++++++++++

Louisiana Road Trips
March 2014, Cover Stories, Book Review
New Orleans Carnival Krewes
By Mona L. Hayden Wed, Feb 26, 2014

New Orleans Carnival Krewes:The History, Spirit & Secrets of Mardi Gras
Book written by Rosary O'Neill, PhD

Those outlandishly entertaining carnival krewes, the pillars of Mardi Gras, are revealed in all their glory by author Rosary O'Neill who has documented the birth, history, and structure of the krewes after extensive research. Also included in the book are several oral histories from Mardi Gras insiders – a carnival guru, a debutante, and a masked Baby Doll – who share their front row visions. There's even an impressive bibliography and index for reference.

In the pages of New Orleans Carnival Krewes, you'll quickly learn that Carnival isn't just a seasonal occurrence but a year-round event via numerous festivals in New Orleans. With many charts and photographs, the book details the entire Mardi Gras experience. Novices and veteran festival goers alike will appreciate all the facts, tidbits, and behind the scene information that Dr. O'Neill has collected and shared in her book. And just in time…
++++++++++++++++++++++++++++++++++++++++++