Six months after a devastating car crash, Montgomery Clift finds his face unrecognizable after surgery. Unwilling to give up his career in films, he is more determined than ever to act a lead again. No good offers have come his way; he struggles to get himself back on the boards.
Nov. 1956, NYC, Montgomery's brownstone. He removes his bandage after a second surgery and gapes in the mirror, determined to work whatever his appearance. He is frantic. His worried MOTHER insists he retire so she can look after him. The BARONESS wants to marry him and threatens to jump off the roof. His DOCTOR suggests he let loose. He defies all and refuses sympathy calls from his friends.
But they appear as hallucinations in which he convinces them to study his journals and help him find out how he confronted calamity before. GHOST/TWIN SISTER tells him to claim his inner demons. GHOST/MARILYN tells him to study at the Actors Studio. GHOST/LIZ talks about easing him back into films.
He refuses the role in Liz's film, Suddenly Last Summer and suggests cavalierly that he be allowed to audition for it.
His ACTING COACH arrives announcing that Columbia Pictures has accepted Montgomery's offer made in jest to audition for the lead in Suddenly. Shocked into action, he agrees to try out and takes the last audition slot of 6 pm.
He tries to rehearse but he is exhausted, sick; can't swallow, much less remember lines. Mother and Doctor suggest he take pills and avoid more stress.
Ghost/Sister challenges him to audition with something daring: an improvisation on the car crash. She confronts him to discover his complicity in the collision. He relives the accident and exposes his guilt for causing it by his neurotic obsession and love for Liz.
Outside a storm rages. All discourage him from pursuing the audition. Montgomery rejects the Baroness' staged wedding, the doctor's tickets to Malibu, his mom and coach's acting advice. He learns that the part in Suddenly has possibly been offered to Brando. Montgomery wants to run outside and get stoned. A vision of sister warns him against suicide.
Montgomery denounces the sycophants about him, goes back to rehearsals. Coming into his own as he rehearses, Montgomery decides to go alone to the audition. Montgomery Clift, the actor is back. Sound of applause, screaming. Photos of Montgomery Clift as the lead in Tennessee Williams' Suddenly Last Summer take over the screen.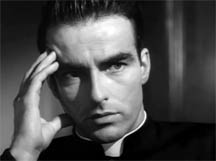 Montgomery Cllft in I Confess
Reminiscent of the late work of Tennessee Williams in tone, content and style, the play's devotion to the nearly hopeless and most brutally broken of lives, so specific in it's exoticism and florid excess wherein the possibility of salvation has all but vanished for once and for all.
--Craig Lucas, Broadway playwright