SCREENPLAY: Raised in Paris and Italy, Edgar Degas later visits New Orleans, in order to reconnect with his mother's family and find peace. What he finds are scandals, oppressive racism, and the never-ending threat of poverty and death. Edgar confronts the scandal of what has happened to his American family, the bankruptcy of his uncle, and the bigamous affair of his brother with his next-door neighbor.

Unable to control his fascination with his stunning and blind sister-in-law, Edgar paints portraits of Estelle in a mad fervor. Their intense love affair kindles his spirit and makes him question everything.

Edgar tries to salvage his family life and find a new direction for his painting and reclaim some meaning in his life. The film exposes the scandal between Edgar and Renè Degas, which kept them from speaking for ten years. The story explores pivotal events that led Degas to return to Paris with a focused, new direction in his artwork: Impressionism.
Coming Soon!
(For more information contact Carolle Bidault's email cbidault@mediafusionent or website: www.mediafusionent.com)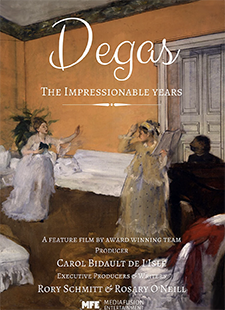 Movie title