In the 19th century, Narie Laveau, a voodoo priestess finds herself buried alive in New Orleans and callls upon magic to bring her back to life.
Historically, Marie Laveau was the daughter of a white planter and a black free woman. She was born in the French Quarter of New Orleans.
Time
June 15, 1881, at seven p.m., the death hour of Marie Leveau in New Orleans, Louisiana.
Setting
An occult parlor, in the French Quarter and other places where the arts of black magic and voodoo are practiced in New Orleans. We're in the death mind of the Voodoo Priestess, Marie Laveau II, a legendary healer still celebrated today in New Orleans.
Characters
Marie Lavearu II - Voodoo Priestess. A stunning Creole woman of timeless beauty.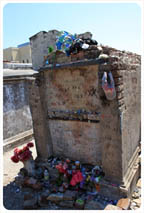 Her tomb today