COMEDY. This comedy concerns the emotional problems of married adults, both with their peers and with their children. In spite of a warning, Kitten, a runaway housewife, joins her Tulane professor, Beau, on a train trip through the Louisana swamp. They manage successfully until her son, Bunky, in an effort to punish her, shows up a stowaway on the train. As Kitten and Beau try to find themselves, a hurricane rages and the sadness of their false sophistication reaches them. This is a play about second love, about parents and teens, about blatant decency in the midst of struggle. Kitten and her professor work their way through their disappointments, and the futility of their lives, as the build-up of tension from the hurricane explodes. Bare stage w/props.
CAST OF CHARACTERS: (2M, 2W)
Kitten Legere: About thirty-six, college student, married to new money. Dressed all in bonny blue, SHE wears a Laura Ashley ensemble a bit tight in the waist and bust, and a hat. SHE carries a ribboned basket of supplies and food. SHE is gorgeous like a china doll from Paris but sometimes SHE stutters, especially when talking about her son.

James Beauregard (Beau) Ellis: About thirty-eight, professor of English Literature, HE will inherit his family's plantation and sugar business. Right now, HE is broke. HE is dressed from toe to crown in Ivy League blue and gray: an oxford cloth shirt, the university club tie, Bally loafers. HE carries worn Gucci luggage, a London Fog raincoat, an umbrella, and a brief case.

Bunky Legere: Kitten's son, fifteen. HE is poured into jean cut offs, tee-shirt, leather jacket, and boots. Over one shoulder, HE carries a nap sack with books, shoes, a bandana, patches, and pins hanging from it, and a fencing sword. HE wears his hair over his face like a mask.

Hetty Williams: the porter, late twenties to early fifties. SHE is limping. Her leg starts acting up whenever anybody criticizes her. A strong woman, from rural Louisiana, SHE wears a porter's uniform with a name tag and a rhinestone necklace, earrings. Perhaps a nose ring.

SETTING:
THE TIME The not-too-distant present.
THE PLACE A waiting room in a train depot in the Pearl River Swamp, Louisiana

NOTE: A French Translation of WISHING ACES (Les Cartes de la Chance) by Christel Coulon and a Russian translation by Marina Andreyev are available. Contact Tonda Marton, The Marton Agency, Inc.,1 Union Square W., Suite 815, New York, NY 10003 Phone: 212-255-1908.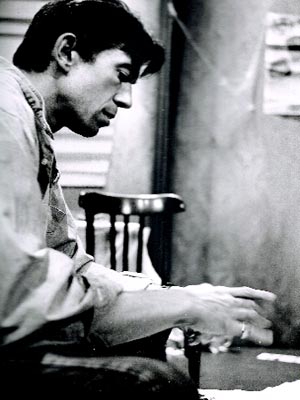 Scene from Wishing Aces