COMEDY. This contemporary romantic comedy exposes life in the topsy-turvy world of art. Celebrity artist Susann determines to reclaim her lost love, Blaise, now married to a sedate New Orleans socialite. Convinced that without him she cannot live, Susann arranges an exhibition of her works in his new house on Exposition Blvd. Susann's readiness to sacrifice her career, his new wife, and her Mama's boy manager leave Blaise both angry and aroused. Theatrical excitement abounds in this comedy of love vs. duty in which passions are discovered. One init set.
CAST OF CHARACTERS: (2M, 2W)
Blaise Salatich, an actor

Lucille, his wife, an art historian

Susanne Dupré, a painter

Ted Clapper her manager

SETTING:
TIME The present. Sunshine, already hard on the windows, fills the room with a sharp light.
SCENE A mansion on Exposition Boulevard, New Orleans. We are in a big, finely-proportioned parlor with high ceilings, Orientals, a crystal chandelier. The atmosphere is that of a grand sanctuary, where the landowner can view Audubon Park as a superior. Floor-to-ceiling windows (sometimes used as entrances) open onto a gallery overlooking a wide lawn, which tumbles into Audubon Park. During the daytime one has the feeling of a semi-tropical park, and at night of an oak garden, which climbs into the stars.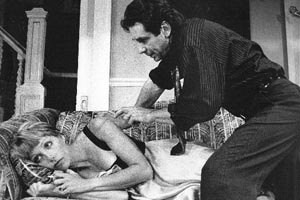 Scene from White Suits in Summer