COMEDY. Uncle Victor is a historical comedy inspired by the classic Russian play, Uncle Vanya, by Anton Chekhov. In this version O'Neill takes the structure of Uncle Vanya and some characters and places them on Waverly Plantation in 1899 Louisiana. The dialogue and characters are typically Southern and the play resounds with this new dimension. The Louisiana story perfectly parallels the situation in turn-of-the century Russia, where a new urban economy was destroying the country's agrarian base. While Russians were suffering from typhoid and peasants were going hungry, Southerners were dying from yellow fever and displaced farmers were starving. In Uncle Victor, the Mallory family, running Waverly Sugar Plantation, confronts a totally changed Louisiana.

Several characters typify turn of the century Louisiana: Uncle Victor, a spoiled manager, who has given his life to salvage his family's plantation; Randolph Trowell, brother-in-law, a retired Tulane professor who returns to reclaim the plantation for his new young wife; Randolph's daugher, Sophie Trowell (and Uncle Victor's niece), a fading spinster-heir to the plantation; Mamere, the grandmother who yearns for the past; and Marie Gaudet, her nurse, who longs for a future for Sophie.

When the gorgeous young wife of the professor comes in with an opportunistic, epicurean attitude, the characters must come to terms with their failed expectations, the new egalitarian society. The men have tried to salvage the best for Louisiana: the doctor, to save patients from yellow fever; the plantation manager, to keep the plantation going with stringent economy; the professor, to enlighten students in Louisiana's cultural future. But the men fall in love with the new wife, a glamourous woman who has none of their interests.

Uncle Victor makes a beautiful woman central to choices that affect a town, a state, and a world. It asks the question: What are the new paths to leave a legacy in Louisiana? Love inspires the choice, love for the land and for this woman, but irony reigns in this new Louisiana. Unit Set.
CAST OF CHARACTERS: (3M, 4W)
Randolph Trowell (Dolph), a retired professor

Ellen Barnes Trowell, his wife, age twenty-seven

Sophie Mallory Trowell, his daugher by his first wife

Louise Mallory (Mamere), mother of the professor's first wife

Victor, her son

David August Greenan, A doctor

Marie Gaudet, an old nurse.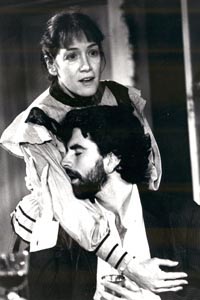 Scene from Uncle Victor