Kate Chopin, author of The Awakening, must pick between her dying husband and her lover, the wealthy planter next door. She picks her lover, and he leaves her. In agony she goes forth to become the great writer she was meant to be. A tour de force play of obsession rooted in the real life of the famous first great American novelist and based on detailed, shocking facts from her life. She wants to hold on to her marriage and her six small children and launch herself as a novelist in 1884. Frustrating her attempts are her wealthy next door neighbor, wanting to prove his masculinity, her jealous husband, stricken with malaria, the little sex-pot seamstress next door, the town gossip, and the bankrupt cotton business, which consumes her time. All this results in an epic post Civil War story of the first great American woman novelist.
CAST OF CHARACTERS: (2 M, 2W)
KATE CHOPIN—32, dark-haired Irish beauty, with waves and curls about her shoulders. She has direct brown eyes that look right at you and a captivating face with a frankness of expression.

OSCAR CHOPIN—38, her husband, an aristocratic cotton merchant recuperating from "malaria." Handsome eyes, a feverish glance. He retreats into silence and heavy brooding.

MARIA NORMAND DELOUCHE—26. Cuban vixen with golden hair, broad smiling mouth, tip-tilted nose and full figure. She likes to wear Spanish mantillas and flowers draped over her curly hair.

ALBERT SAMPITE—38, wealthy planter with charm and animalism. Devilishly good-looking, dark eyes with an insolent manner.

SETTING:
December, 1882. The Chopin plantation in Cloutierville, Louisiana, a one-street town blighted by the Civil War.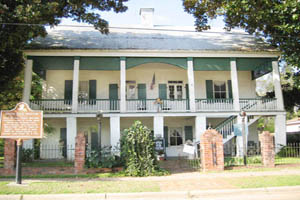 The Chopin House as it once appeared.