Comedy: Blackjack follows an eccentric Southern family as it is forced into the close quarters of a Mississippi cruise ship. Kaitlyn is convinced that she is channeling the poet, Baudelaire and that her husband is having an affair with a larger-than-life ship entertainer. Irene, the matriarch of the family, is suspicious of a break in her daughter's marriage. Her sexy Hispanic maid sets her sights on the grandson, a successful Southern rock star. Everyone costumes for New Year's Eve in an attempt to forget their old identities and try to find new love.
CAST OF CHARACTERS: (2 M, 4W)
IRENE SONIAT DUBONNET—(Nicknamed MIMI), sixties. A ravishing matriarch. Her family has roots in the nineteenth century, and she still presides over a vast Garden District house in New Orleans.

LUISA GARCIA— Early twenties. An Hispanic medical student, too pretty for her office as Irene's companion. Sleek and firm, she is poured into a shirt, jeans, and a nurse's jacket.

BUNKY DUBONNET LEGERE—Mid-twenties. A rock star and Irene's grandson. He has mood eyes that change colors and wild hair.

JAMES BEAUREGARD ELLIS—(Nicknamed BEAU), fortyish. Bunky's stepfather. Athletic and tanned, he dresses in Ivy League, navy and black blazers with shirts and sweaters of gray, blue, and wine.

KAITLIN ELLIS—Bunky's mother, fortyish. A delicate beauty with the clearest eyes and a porcelain complexion just beginning to crack from the strain of illness.

RORY DEBANGO—Mid-forties to fifties. Single. There is something striking about her, an exotic strain of wild, unpredictable whimsy.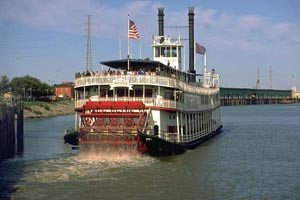 Type of boat used in Blackjack: The Thief of Possession